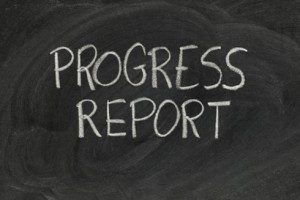 Mid-Term Progress Reports

Monday, September 25th
We have had a great start to this school year! Communication between parents and teachers is important, and an essential part of that communication is keeping you informed of your child's educational progress throughout the year.  There will be four grading periods, one every nine weeks or 45 days school days. We will be sending home progress reports at the mid-term of each grading period and a report card with final grades at the end.  The first nine weeks grading period will end on Friday, October 27th, please watch for your student's report card which will be sent home on Thursday, November 2nd.
Please check with your child this evening, Monday September 25th,  to see their progress report for the mid-term of the first nine weeks. If you are concerned with an individual grade, we encourage you to contact your child's teacher either by phone, email, or if necessary, a scheduled conference to discuss it further. Individual teachers will be able to provide you with  more in-depth information on your child's class performance.
To confirm you received a progress report, we ask that you please sign and return your child's progress report to their homeroom teacher no later than Wednesday, September 27th.
The Parent Portal website in Powerschool is an helpful resource to stay informed on your student's academic performance. This online system provides parents with instant access to student's grades and attendance throughout the school year. If this is something you would like access to, please fill out the application attached to your child's progress report and return it to the CMS front office along with a photo ID. Once CMS has verified the application has been submitted by a parent or legal guardian, you will be mailed an access letter with instructions on how to to set up your parent portal account. We encourage all parents to take advantage of this wonderful opportunity.
If you you haven questions please feel free to contact the school office at 646-3467.