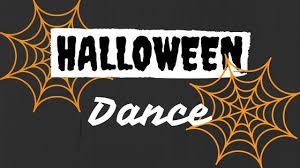 Canton Middle School Halloween Dance
Tuesday, October 30, 2018  6:00-8:00 pm
Admission: $6.00
Ticket will not be sold at the door, they must be purchased in advance from Mrs. Messer in room A -201. Tickets may be purchased beginning Thursday, October 25th from 7:30 am until 8:00 every morning . Sales will end on Tuesday, October 30th at 11:00 am. There will be no sales after 11am on the 30th!
In order to purchase at dance ticket, students must meet eligibility requirements per dance code policy (See student handbook)
No more than 4 absences by 10/30-Excused or Unexcused


No OSS

No More than 1 Day in ISS

No Fee or Fines owed to the Library or Cafeteria
Costume contest:
Scariest, funniest, most creative, and best all around! Costumes are not required, you are welcome to come casual.
Costume Requirements:
CMS Dress Code Applies
No masks, face must be visible
Costume props must be school appropriate-No weapons even if they are fake!
There will be a concession stand with drinks and candy for sale a the dance. If they wish to purchase these items please send your child with extra money.  They ticket price only covers admission into the dance.

Please be prepared to pick up your child by 8:00pm after the dance.  Staff will wait until all children are picked up, but parents being on time helps us get home to our families.
Please remember all school rules and dress code applies.
For More information regarding the Dance Policy please see the school at 828-646-3467