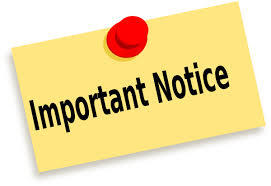 Academic Updates
Participation in your Google classes is essential in order for you to be prepared for our return on May 18th and for next school year

. If you have not completed your work during the school closure, you will be behind and will not have gained the skills to be prepared for next year. Administration and teachers will be monitoring student participation.  

During the school closure, grades will be given for feedback in Google Classroom. This will monitor student learning and mastery of required curriculum. 

No grades will be entered into Powerschool.

 

Students if you are having any issues accessing your work, please contact your teacher. Parents, if you have questions or concerns, please contact Ms. Fox or Mrs. Gwyn at 646-3467.
Spring Break for Students
Spring Break for students will be the week of

April 6th – 10th

. Students will not have virtual classes during these days. Virtual learning will resume Monday, April 13th.

Enjoy your break!
Teacher/Staff Spring Break
Teacher/Staff Spring Break will be five consecutive Fridays:

April 3rd, April 10th, April 17th, April 24th

,

and May 1st

. On all of these days (except April 10th), lessons will be posted for students; however, teachers and staff will not be working and will not be available to answer questions. Teachers will respond to students on the following Monday.
Food Distribution
Food distribution will continue during Spring Break and will be available by bus and pick-up at a school site. During the five weeks that staff have "Spring Break Fridays", meals will be available Monday – Thursday. Friday's meals will be provided with Thursday's meals.
Items at School
If you have items at school that you need (binders, clothing, etc), please contact the school (646-3467) and schedule a time to pick those items. Items will be collected and brought out to you at the scheduled time.
Spring Pictures and Yearbooks
If you purchased Spring pictures or a yearbook, those will be distributed when we return to school.